The 19th Hole At Foxford Hills Golf Club
Before or after your next round at Foxford Hills, make time for a delicious meal and cold drink in our restaurant. Settle in with your friends around a table and catch the latest golf tournament or ballgame on one of several TVs. If you prefer a balmy breeze with your beer or lemonade, shady outdoor seating is available on the veranda. For your dining pleasure, choose from an array of mouthwatering sandwiches. We offer a wide array of sandwiches which include:
1/2 lb Burgers,
Italian Beef Sandwiches,
Philly Steak Sandwiches,
Cold-cut Sandwiches,
Hot Dogs,
Johnsonville Bratwursts,
Chicken Tenders;
Buffalo Chicken Ranch Sandwich;
Pizza
For our early golfers, we have breakfast options ranging from a danish, egg sandwich or a breakfast platter. Don't miss Foxford Hills' fabulous 19th hole!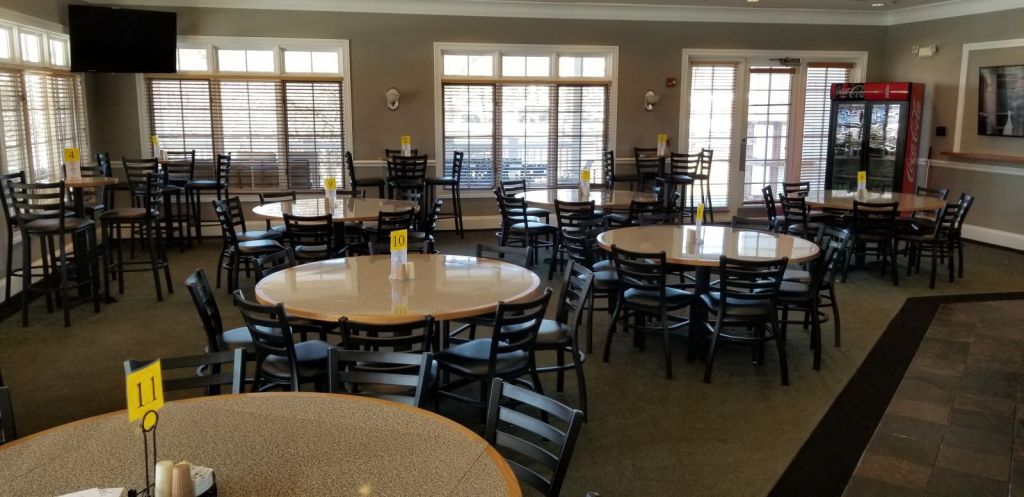 For those guests looking to host a party at Foxford Hills, we offer a room and patio rental option.  Our grand room seats 60 to 70 persons inside while our beautiful country-style patio can seat an additional 60 to 70 persons. Since our grand room serves both golfers and guests interested in hosting parties, we offer our 'After 7' program.  Our 'After 7' program is unique, whereby the guest can rent either the grand room, patio or both for a nominal fee for their party. For detailed information on the buffet packages we offer our guests contact the golf shop. Service fees and room rental rates are not included in buffet package pricing and may vary based on time of year and areas of the facility being rented. For those interested in hosting a party, you can reach us at (847) 639-0400.