Foxford Hills Golf Club
Magnificent Golf, Superb Amenities, Outstanding Service

Player Development
Adult Programs, Family Programs, PGA Junior Program

Golf Events
Corporate Tournaments, Fundraising Events, Golf Groups of Any Size
Foxford Hills Golf Club
Eighteen distinctly spectacular holes…a four-star Golf Digest rating…featured on the Golf Scene and WGN Radio 720…and an atmosphere that evokes Carolina resort golf, all at a fraction of the typical resort-golf price tag. That's Foxford Hills Golf Club in northwest suburban Cary, Illinois. Just an hour from downtown Chicago – a must play for golfers on the north-side and south-side of Chicago.
A phenomenal golf course playing to 7,047 yards from the tips, Foxford Hills tests golfers' stamina and shot-making savvy with intriguing 60 MacKenzie style bunker complexes and strategically placed water. Five tee placements per hole create a truly flexible, dynamic layout, while expansive bentgrass fairways and generous greens ensure all golfers can have fun here.
Foxford Hills' charming Southern-style clubhouse accommodates a full-service pro shop, spacious locker rooms, and a fabulous bar-and-grill operation. The beautiful 30-stall, grass-tee driving range is lighted, giving Chicagoland golfers an extra couple hours every day for practice.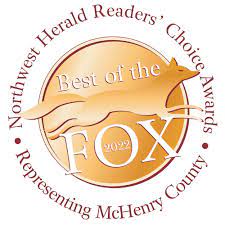 Voted 2022 and 2023 "ONE OF THE BEST" Public Golf Courses
2022 and 2023 WINNER – "ONE OF THE BEST" Public Golf Courses
Clubhouse Hours: Thursday, November 23-26 Closed. Opened based on weather. Clubhouse Hours – Monday through Friday 9am to 4pm
Driving Range: Driving Range Off For The Season.  
Important Information To Know – Fescue/Native Mowing Schedule:
The fescue/native areas are cut two to three times a year dependent upon the growth cycles. The fescue/native mowing schedule for the year is as follows.  First mow is done in March or April prior to the initial growth period of May through September.  The second mow starts after Labor Day in September dependent upon maintenance schedules sometimes running into mid October. The third cut is done in late fall if needed only.  Please understand there are native species, clover and milk weed in this fescue/native that attracts birds, butterflies, bees and other beneficial species that help with pollination and act as a refuge in a golf environment ecosystem.
Second and third cuts of the fescue/native commenced on or about July 15th of each year and finish up in September and October. 
Golf Course Cart Paths: 
From November 15th through March 15th the general public is allowed to walk on cart paths when the golf course is not open for play.  Those persons that take advantage of this opportunity are not allowed to walk on tees, fairways, rough or greens as tracking and footprinting will appear on these surfaces and affect playing surfaces.  Please respect the course and take your garbage with you.  Upon opening of the course,  the general public will be asked to leave the premises and walk on paths and sidewalks outside the golf course.  We appreciate everyone's cooperation with following these guidelines.  Thank you!